Steep Pitches are B****es
Make them easier to work on and get $50 off your SteepSlope Scaffold.
By submitting this form you're opting into email marketing from Safety Hoist Company including company news, promos and sales information, and more.You may opt out at any time by clicking 'unsubscribe' within the email.
Ships in one business day
Ships direct from manufacturer
Top-rated customer support
Increase Job Speed & Your Bottom Line!
The SteepSlope Scaffold allows roofers to cut job times by up to 50%. This allows them to take more jobs and make more money.
You know who likes to make more money? You. And everyone else.
See the SteepSlope Scaffold in Action
All you have to do to set it up is slide the rail up the roof and over the ridge. The rails float so you can easily shingle under them.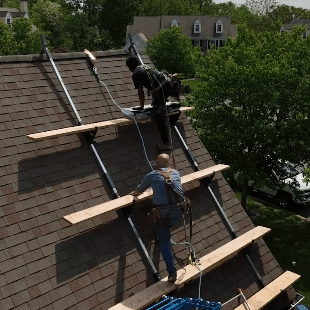 It's the safest scaffold out there for both you and the roof. You'll have a durable platform with lots of room to move, and you won't be actively damaging the roof (like roof jacks do).
For under a grand, you are getting a product that you can use for YEARS that'll allow you to make MORE money. Not a bad investment, right?
What Roofers are Saying About It
Took only 15 minutes to make a repair. Using old style brackets would have taken hours. Didn't have to nail into the roof which would've caused more repair work.
This should be standard equipment for every roofing crew. It doesn't cost much, it's a quality made product and really helps make our roofing jobs safer and faster.
Using the system, workers can move freely about the roof with plenty of space for materials and tools, gaining the mobility to work effectively.
Great price on the equipment I needed. Everything was shipped correctly and instructions are easy to follow.
This is like the chicken ladder on steroids! My crew loves everything about it.
Great product and excellent service! Thank you for making a hard job go safely and more efficiently
When crews can't get roof-loaded, they'll sometimes opt to carry materials up themselves, violating OSHA. Material hoists protect against this and keep your team safe.
Fantastic customer service! Quick to get the order quoted and finalized. Friendly staff. Highly recommended.
Great price on the equipment I needed. Everything was shipped correctly and instructions are easy to follow.
The Safety Hoist has been a great investment that we wouldn't be without now. It's made work a lot easier and safer.
Great product, fast service and very knowledgeable and helpful staff. Our team loves the new electric hoist model. 10/10
Get in Touch With Our Team
604 Jeffers Circle, Exton, PA 19341
info@safetyhoistcompany.com
info@safetyhoistcompany.com

604 Jeffers Circle, Exton, PA 19341