⭐⭐⭐⭐⭐ (173 Reviews)
Regular price
$996.00 USD
Regular price
Sale price
$996.00 USD
Unit price
per
Sale
Sold out
Each rail is 21 ft. standard (2x 8 ft. sections, 1x 5ft. section) & extendable to 42 ft.

Made for slate, tile, asphalt, and metal (including stone coated) shingle roofs with a pitch between 8/12 and 14/12.
*Note: This product does not come with planks. However, the system is built to support planks between 2x8 and 2x12.
View full details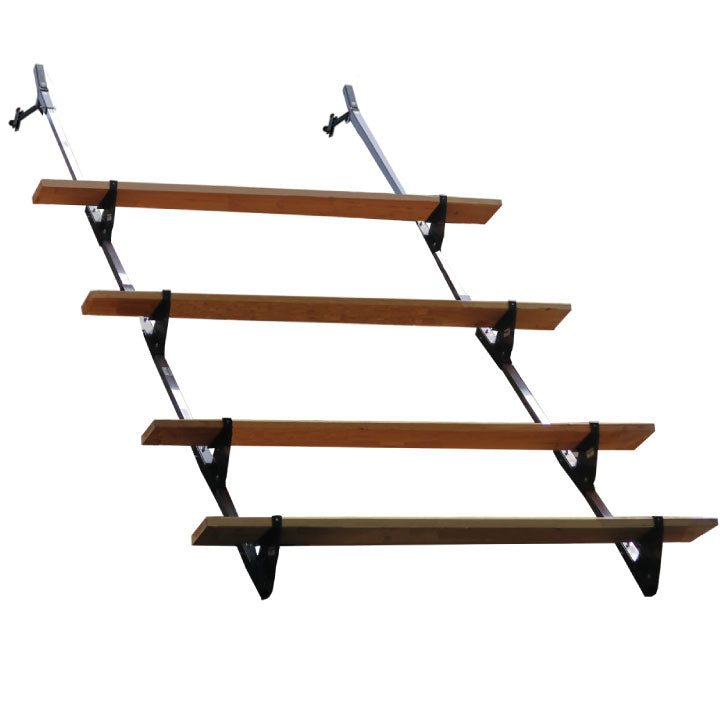 Ships within one business day

Once you place the order, our team gets to work so your team can, too!

Ships directly from the manufacturer

All products come directly from a Safety Hoist Company facility.
Increase Your
Job Speed

&

Revenue

The SteepSlope Scaffold allows laborers to cut job times by up to 50%. This allows them to take more jobs and make more money.
Easily Shingle Under Rails
The beauty of this scaffold is it's free-floating. This allows you to slide materials (and remove them) under the rails with ease.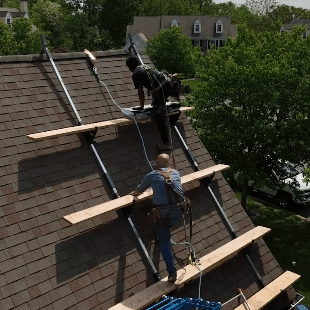 Easy Movement
Walking on steep roofs is a pain in the @$$. But with the SteepSlope Scaffold, you now have a sturdy area to easily move around the roof.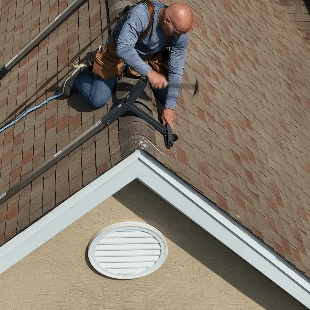 No More Roof Jacks
Instead of damaging the roof by nailing roof jacks all over the place, the SteepSlope Scaffold simply mounts over the ridge. Setup takes under 10 minutes and your customer's roof is protected.
Frequently Asked Questions
How does rail stay off the roof deck once mounted?

The ridge mount bracket is manufactured to mount over the ridge.

Lift the ridge mount bracket up off the ridge about 1½ inches approximately. This elevates the rails and provides space under the rails allowing materials to slide underneath the rails and protects the ridge vent.

Since the rails are not fastened into the work area, the rails can be shimmed at any point if an obstacle is present.
How does rail assembly adapt to roof pitch?

The ridge mount bracket is set for the four most common pitches; 8, 10, 12, 14. Anything under 8 (8%) is walkable and anything over 14 (14%) is uncommon and would need a different type of scaffold.

Flip the ridge mount bracket and assemble it to rails according to the pitch you're working on. There are stickers that indicate which side of the ridge mount bracket to use.
Do rails crush ridge vents?

No, the rails do not crush ridge vents. When placed over vents, ridge weight is distributed on the back side of the roof with a displacement arm. If installed properly, the 1½ inch space helps keep pressure off the ridge even with contact.
Does it work on metal roofs?

Yes, it does work on metal roofs. All parts of the SteepSlope Scaffold that contact the roof's surface are rubber coated to help resist against scratching the metal, eliminating metal-on-metal contact.

With that said, we do recommend adding on an additional barrier if available (rubber/cardboard/foam/etc.) that wouldn't scratch the metal roof under the rails since metal roofs scratch very easily, even from just dirt.
How much weight can the rails hold?

SteepSlope Scaffold's rails are rated at 5,000 lbs per square inch tensile strength. Since plank's aren't included at purchase, their weight depends on the contractor's discretion. 
Does rail need to be fastened to roof?

It does not. However, we recommend using the nail flange provided in the ridge mount bracket only. Fasten using duplex nail so it can be removed easily or screw. Once removed inject roof caulk into hole and sprinkle shingle granular over caulk sealant.
What size plank should I use?

We recommend using planks that are, at minimum, 2"x10" with a 1' overhang onto adjoining scaffold when using three or more rail assemblies (this would be with additional systems set up side-by-side). be sure to fasten planks together when they overhang each other. 
How far apart can the rails be placed?

Our recommended space is 8' using a minimum of a 2"x10" plank board with a 1' overhang onto adjoining rails (if using three or more rails.)
Can aluminum planks be used?

Yes they can as long as they fit into the 12" plank bracket. We also offer an 18" plank bracket that fits on rail the same as the 12" bracket. 

Some chimney sweeps prefer wider planks to help increase work service, especially at ridge area. 
Do plank brackets have to removed after use?

They do not.Once the brackets have been assembled, there is no need to remove.

The rails will break down into 8' and 5' sections for easy transport into the back of your pick up, van and ladder racks. 
How much do the rails weight (approx.)?

The rails weigh 41 lbs fully extended and assembled (including ridge mount bracket and plank brackets at 21' length). 
Have any questions for our team?