Safety Hoist Company Wins Preferred Supplier Award... Again!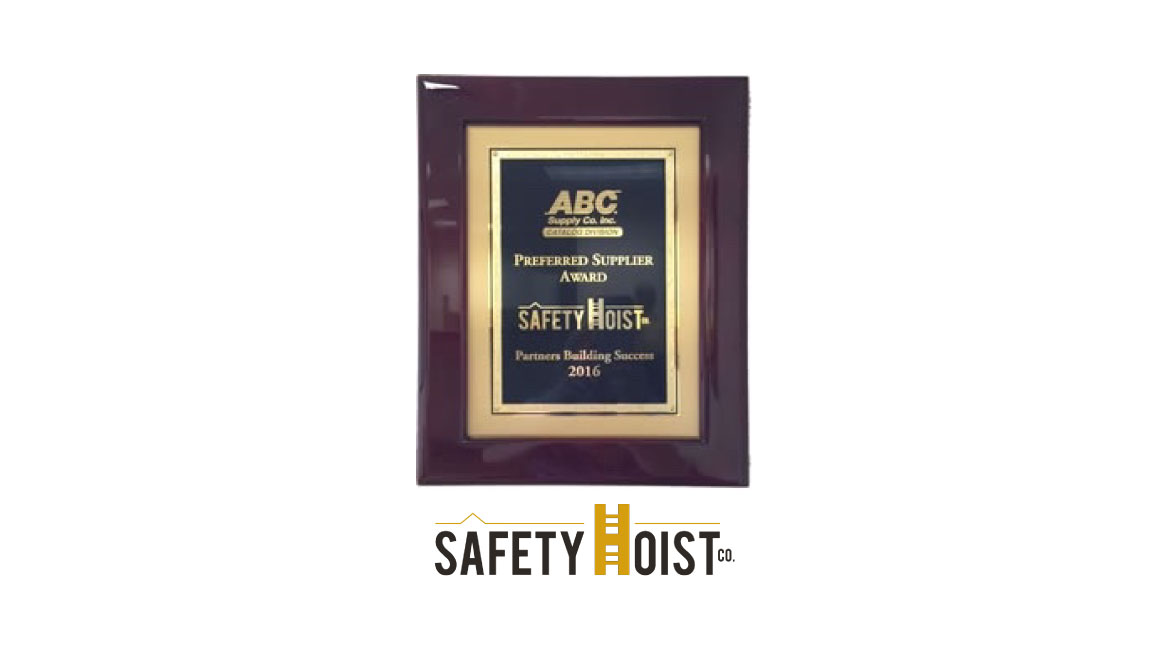 Safety Hoist Company has been recognized as a Preferred Supplier for ABC Supply Company Catalog Division for the second time. Hussain Al-Yousuf, business development manager of the ABC Supply Co. Inc. Catalog Division, presented the award to Safety Hoist company president Bob Delaney at the 21st Annual Preferred Supplier Partnership Meeting in Beloit, WI on September 13, 2016.
Ten companies receive this award each year. Each is being recognized for their exceptional work with the ABC Supply Co. Inc. Catalog Division in:
Meeting deliveries
Presenting few warranty problems
Being responsive to both ABC Catalog and to their customers who place catalog orders
Providing the highest level of customer service and quality
Safety Hoist Co. has supplied ladder lifts to ABC Supply Co. for over thirty years. They have worked closely with the Catalog Division since its inception in 1990, making sure they and their customers have easy access to the power ladders, brake racks, and specialty roofing equipment they need.
According to Mr. Delaney, "It's a great honor that ABC Supply Co. Catalog Division thought so highly of Safety Hoist Company to present us with this award, especially in our first year of new ownership. We will strive in 2017 to again meet or exceed ABC Supply's expectations."America's largest wholesale distributor of roofing products has recognized the value of Safety Hoist roofing ladders. Will you follow their lead?Choose from the following material hoist models and shingle elevator attachments: